小提琴在樂器中可稱做為樂器之后,許多作曲家都把它當作為表達自己的音樂、抒發自己的情感最佳的選擇。由於它的音域廣,音色優美,具有多樣性,使它常成為音樂中的主角。
其製造的過程是一門高深的學問,質材的好壞及造者的手工均扮演重要的角色。其共鳴構造包括了琴頭、琴頸、指板、琴身。琴身包含正反兩面音板、共鳴箱、拉弦板及橋等。其裡頭有音柱(sound port)和平衡桿(base bar)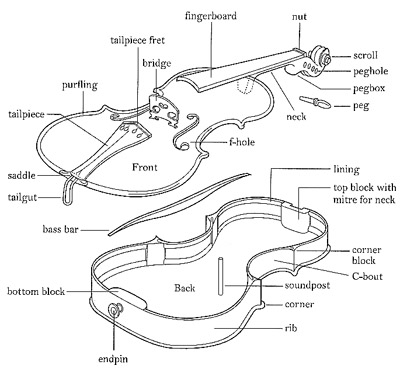 圖片出自The Violin Explined (written by James Beament 1997)
參考書目
Beament, James. 1997. The Violin Explained: Components, Mechanism, and Sound. New York: Oxford University Press Inc.
Benade, Arthur H. 1992. Horns, Strings and Harmony. Dover Pubns.
Cremer, Lothar. 1984. Physics of the Volin. Boston: MIT Press.
Fletcher, N. H. & Rossing, T. D. 1991. The Physics of Musical Instrument. New York: Springer-Verlog
Hall, Donald E. 1991. Musical Acoustics. Pacific Grove, CA: Brooks/Cole Publishing Company
Hopkin, Bart. 1996. Musical Instrument Design: Practical Information for Instrument Making. Tucson, Arizona: See Sharp Press.