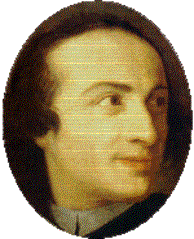 Giuseppe TARTINI (1692-1770)
Biography:
Italian composer, violinist, and theorist. After receiving his early education from clerics at Pirano and Capodistria, he studied law at Padua University. In 1710 his secret marriage to Elisabetta Premazore caused him to incur the wrath of the Bishop of Padua Cardinal Giorgio Comaro, forcing him to take refuge in the Franciscan monastery at Assisi. There he is said to have studied with "Padre Boemo," probably the organist Bohuslav Cernohorsky. By 1714 he was employed in the opera orchestra at Ancona. About 1715 he was pardoned by the cardinal and was reunited with his wife, with whom he lived the following year in Venice and Padua. Probably in July 1716, he heard Veracini play in Venice and was so impressed with the virtuoso's violin technique that he is said to have gone into self-exile to perfect his own playing. By about 1720 he had returned to Venice, and on 16 April 1721 he was appointed "primo violino e capo di concerto" at St. Antonio in Padua; he retained this position until 1765. From June 1723 until 1726 he was employed by Count Kinsky at Prague; he then returned to Padua.
From the 1720s until about 1740, when he injured his arm at Bergamo, Tartini enjoyed remarkable success as a violinist. In 1727 or 1728 he founded his violin "school"; his pupils included J. G. Graun, Nardini, J. G. Naumann, Paganelli, and Pagin. He taught until at least 1767. His treatise on violin playing, Traité des agréments, appeared after his death, but it must have originated earlier, since material from it was used by Leopold Mozart in his Violinschule (1756).
Tartini published his acoustical findings in the Trattato di musica (Padua, 1754). His theoretical system incorporates the differential tone (terzo suono), which he claimed to have discovered in 1714. Also in the Trattato are discussions of melody, cadence types, dissonance, scale structure and harmonization, and meter. His compositions include a small number of sacred vocal pieces, written in the last year of his life; about 125 violin concertos; concertos for other instruments; numerous trio sonatas; and about 175 violin sonatas, including the "Trillo del Diavolo" [Devil'sTrill].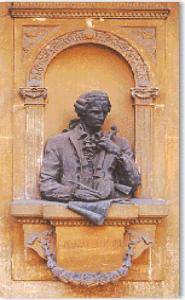 Basilica of St. Anthony, Cloister, statue of Giuseppe Tartini
His Music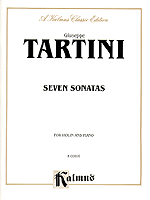 Violinists will know Italian composer Giuseppe Tartini as the man who introduced the concept of "resultant tone" in music, as well as introducing violinists to thicker strings and lighter bows than what was used up until his time. His technical proficiency on the instrument was well-known as demonstrated in this collection of transcriptions of seven of his sonatas. Written for solo violin with piano accompaniment, this compilation includes his Sonata in G Minor known throughout history as the Devil's Trill, so named because Tartini swore that the music came to him in a dream where the devil himself was playing the music.
Works:
Tartini published several treatises on musical theory:
Manuscript of the "Regole per suonare il violino".
His compositions include more than 130 Concerti for violin, two Concerti for flute and two Cello concerti as well as over 170 Sonatas for violin, with or without continuo, some 50 Sonatas a Tre and 4 Sonatas a Quatre, plus a small number of sacral vocal pieces, written in the last year of his life. Only some 20 concerti and 50 sonatas were ever published so the remainder exist only in the forms of manuscripts. Apparently he was unconcerned with self-marketing, and many of his "programs" have only been reconstructed from private correspondence in the twentieth century.
Tartini's use of a secret code was the source of much speculation until deciphered by Dounias, a Greek musicologist (1900-1962). His dissertation on Tartini's violin concertos (Die Violinkonzerte Giuseppe Tartinis, Wolfenbüttel, 1935) catalogued them according to tonality. The 'D' (Dounias) number does therefore not refer to the chronology of composition.

Reasons for Tartini's use of a secret code are speculative, but it is likely that he used it to hide secular ideas from works played in church. Until Dounias deciphered the code in 1932 (using the now standard method of analysis of letter frequency), many outlandish theories were forwarded about the mystical qualities of what was written. The rather prosaic quotations from libretti by Pietro Metastasio came as a disappointment to many! The code is a simple substitution-cipher:
Tartini's heritage is kept in a Piran museum and in the regional archives in Koper (Capodistria) and Izola (Isola). Due to the lack of chronology in the manuscripts, a catalogue of Tartini's concerti was drawn up by Minos Doumias, numbered according to their keys. It was possible for some of the works published during Tartini's lifetime to be dated a little more accurately and Doumias has divided the remainder on style, sorting the concerti into three main periods: prior to 1735, 1735-1750 and after 1750.
His violin works are the repertoires of present-day violin virtuosi. One of his best known sonatas is Il trillo del diavolo (Vražji trilček, Devil's Trill or Devil's Sonata) which was published posthumously. It began with a dream that Tartini had in 1765 in which he made a pact with the devil.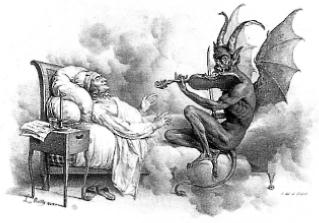 In the dream, Tartini, the greatest violin virtuoso of his time, handed his violin to the devil. Tartini tells us:
"I heard a sonata so unusual and so beautiful performed with such mastery and intelligence, on a level I had never before conceived was possible! I was so overcome that I stopped breathing and awoke gasping. Immediately I seized my violin, hoping to recall some shred of what I had just heard - but in vain. The piece I then composed is without doubt my best, the Devil's Sonata, but it falls so far short of the one that stunned me that I would have smashed my violin and given up music forever if I could but possess it."
The result is a wild bit of madness (keep in mind we're talking Baroque music here, not Black Sabbath) in three movements.
Years before the dream, Tartini reputedly sliced up his hand in a fencing match and had to quit playing the violin. Frustrated by this, he took up composing and attracted young protégés from all over Europe, thus bringing to mind the phrase "those who can't do, teach." The Devil's Sonata is so treacherous that it almost seems to spite those who might dare attempt it. Andrew Manze, dubbed "the Grapelli of the Baroque," in his interpretation of this composition rips through this obstacle course of trills and finger stretches at lightning speed; he saws away with such vigor that occasionally the violin runs actually sound more like a burning bluegrass fiddle or a Hendrix guitar riff than a Baroque sonata, only to drop back into controlled quietude once again. The textures and mood changes that Manze pulls out of Tartini's work are phenomenal for such a short piece (the entire work is only 18 minutes). It's hair-raising, thrilling stuff due not only to the content of the work but to its insane, perfectionist execution.
Selected recorded discography:
Until the arrival of the compact disc in 1983, much of Tartini's repertoire was difficult to locate on out of print LP records. A resurgence of interest in baroque music spearheaded by new original instrument recordings in the 1980s and 1990s has made a good selection of Tartini's music available.
The URL of this page are¡G
http://members.tripod.com/~go54321/tartini.html
http://www.hoasm.org/VIIID/Tartini.html
http://www.apt.padova.it/otg-en/storill16.htm
http://mails.fju.edu.tw/~hearing/frontpage-Tartini.htm
http://www.istrians.com/istria/illustri/tartini/
http://violinpuppy.com/1450116.html