Karl von Frisch
1886 - 1982
Biography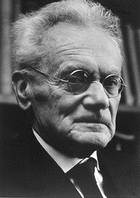 Karl von Frisch is an Austrian zoologist, born in Vienna, Austria. At the beginning, he studied at the University of Vienna in the Faculty of Medicine. Later, he switched to the Faculty of Philosophy and studied Zoology in Munich.
He studied zoology with Richard von Hertwig, whom he later succeeded as professor of zoology at Munich Univ. For his pioneering work in comparative behavioral physiology, particularly his studies of the complex communication between insects. The Nobel Prize in Physiology or Medicine 1973 awarded jointly to Karl von Frisch, Konrad Lorenz and Nikolaas Tinbergen.
In his early work he showed that fish and honeybees can see colors, fish can hear, and bees can distinguish dozens of closely related floral scents. In 1923 he described as a simple language the round and waggle dances of honeybees. He found that round dances mean that food is nearby and waggle dances mean that there is food at a distance. The straight component of the waggle dance points the way to the food, and the duration of the dance indicates the distance. In some cases bees orient themselves by the direction of the sun or, if the sky is overcast, by the polarization of light from patches of blue sky. An important implication of von Frisch's work is that behavioral continuity exists between animal communication and human language.
Adapted from
Infoplease.com
http://www.infoplease.com/ce6/people/A0819741.html
Books written by Karl von Frisch
Dancing Bees: An Account of the Life and Senses of the Honey Bee (1961)
The Dance Language and Orientation of Bees. Cambridge (1967)
Animal Architecture (1974)

Internet links
http://www.nobel.se/medicine/laureates/1973/index.html
The website provides autobiography and Nobel lecture of three prize winners
of The Nobel Prize in Physiology or Medicine 1973.
¡@
http://home.datacomm.ch/biografien/biografien/frisch.htm
This website provides his autobiography in German.
http://www.nencki.gov.pl/ptetol/frisch.htm
The introduction of Karl von Frisch.

¡@
¡@

¡@
¡@

¡@
¡@
¡@