<![if !vml]>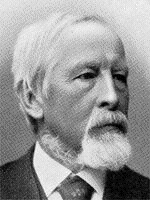 <![endif]>
 
Adolf Kussmaul (1822-1902)
German internist, born February 22, 1822, Graben near Karlsruhe im Breisgau; died May 28, 1902, Heidelberg.
Adolf Kussmaul was the son and grandson of physicians. He commenced his study of medicine in 1840 at Heidelberg, where he was assistant physician under Franz Karl Nägele (1778-1851). In 1845, following graduation, he went to Vienna to continue his studies. He passed the state examination in 1846 and became assistant to Karl von Pfeufer (1806-1869) in Heidelberg, and 1847/1848 went to Vienna and Prague for further studies.
From 1848 Kussmaul served for two years as a Baden military surgeon during the campaign against Denmark in Schleswig-Holstein, obtaining the rank of chief physician. He left the army in 1849 and settled in Kandern in Schwarzwald, where he had been stationed for several months during his military service. Here he had a private practice from 1850 to 1853, and married in 1850..
For reasons of health he was unable to continue his practice, and went to Würzburg to work on his doctorate. He chose Würzburg because Rudolf Virchow (1821-1902) lectured there, and became doctor of medicine in that city in 1855. The same year he was also habilitated in Heidelberg.
Two years later, in 1857, Kussmaul was appointed professor extraordinary in Heidelberg, and in 1859 accepted an invitation to Erlangen, where he assumed the chair of internal medicine in 1859. In 1863 He moved on to the same tenure at Freiburg im Breisgau, and in 1876 came to the same clinical position in Strassburg, where he lived until his death in 1902. Upon retirement in 1886 Kussmaul became emeritus at the Strassburg faculty, living in his dear city of Heidelberg. He became Badian Privy Counsellor and honorary citizen of Heidelberg.
Kussmaul wrote with authority on many subjects including psychology, psychological chemistry, pathology, and neurology, and developed a number of valuable diagnostic and therapeutic procedures. He was the first to describe periarteritis nodosa and progressive bulbar paralysis and to diagnose mesenteric embolism, and first attempted oesophagoscopy and gastroscopy. His book on aphasia was a landmark in its time, and perhaps his most important contribution. He introduced pleural tapping and gastric levage.
參考資料:
http://www.qldanaesthesia.com/AcidBaseBook/AB5_4Kussmaul.htm<![if !supportNestedAnchors]><![endif]>
http://www.whonamedit.com/doctor.cfm/618.html<![if !supportNestedAnchors]><![endif]>